How To Deep Condition Your Natural Hair Like A Pro
Whether you're suffering from dry hair, damaged hair, or your hair needs some TLC; deep conditioning is an essential part of every hair care routine. Textured hair types: wavy, curly, coily, and kinky, are naturally drier than straight haired textures which can lead to extreme frizz and breakage if left untreated.
While regular conditioning remains vital in restoring moisture and detangling hair after the shampoo process, deep conditioning is critical to improving the overall health and manageability of your hair. 
Read on as we break down what exactly deep conditioning is, the importance of deep conditioning for natural hair, and how to properly deep condition your hair for long-lasting moisture and healthier hair. 
What Is A Deep Conditioner and What Does it Do?
 A deep conditioner is a hair mask or intense hair treatment formulated with key conditioning agents that are designed to restore your hair's moisture levels, reduce hair breakage, and improve hair elasticity. Deep conditioning is the process of using a deep conditioner activated by heat for approximately 30-45 minutes to allow for the product to penetrate deeper within the hair shaft.
What Is the Difference between a Deep Conditioner and a Regular Conditioner?
Regular conditioner is specifically made to improve the manageability of the hair and smooth the hair cuticle after the hair is cleansed with shampoo. A deep conditioner is a thicker, richer targeted treatment designed to strengthen, repair, and/or hydrate your hair. When a deep conditioner is used consistently, your hair will become softer, stronger, and healthier over time.
The Ingredients Your Deep Conditioner Should Have 
Searching for a deep conditioner with slip or a deep conditioner that will strengthen your hair? Once you identify what your natural hair needs, it's important to look for key ingredients that will deliver the results you want. Below is a list of ingredients to be on the lookout for when making your next shopping trip.
Humectants: Suffering from dry hair? Then, you need humectants. Humectants attract water to the hair and help the hair retain moisture. Some humectant ingredients include glycerin, honey, and aloe vera.
Emollients:

 

Are you obsessed with products with slip? That means you love emollients. Emollients make the hair feel smooth and detangling a breeze. Examples of emollients are olive oil, shea butter, mango butter, coconut oil, castor oil, and cetearyl alcohol.
Hydrolyzed Proteins: Is your hair constantly breaking and shedding? In that case, a deep conditioner with hydrolyzed protein may be right for you. Hydrolyzed proteins are smaller protein molecules that penetrate and fill in gaps within the hair shaft – ultimately strengthening your hair. Some examples of hydrolyzed proteins include hydrolyzed wheat protein, hydrolyzed silk protein, and hydrolyzed baobab protein. 
When choosing a deep conditioner be mindful of your hair needs and hair type. Those with fine hair and loose curls should choose a conditioner with a lighter consistency compared to those with dense hair and tighter curls that need a thicker emollient-rich conditioner. 
All hair types should alternate the use of a strengthening treatment and a moisturizing deep conditioner to maintain a healthy moisture/protein balance. 
How To Build An Effective Deep Conditioning Routine At Home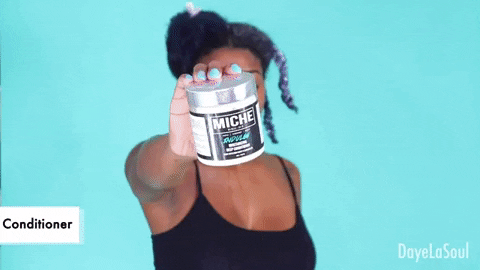 Now that you have selected your favorite deep conditioner, here's a step by step guide on how to establish an effective routine.
Step 1
After cleansing your hair with shampoo, separate your hair into multiple sections. Apply a generous amount (the more the merrier) of deep conditioner to soaking wet hair, ensuring each section (roots to ends) is saturated with product. Applying your deep conditioner to soaking wet hair allows for better absorption and a smoother detangling process.
Step 2
With your favorite curl-friendly brush or wide-toothed comb in hand, detangle each section of your hair from ends to roots and twist each section after detangling to avoid your hair from tangling up again. Detangling from ends to roots helps to distribute the deep conditioner evenly throughout your strands and gently smoothes out fairy knots and stubborn tangles without causing breakage.
Step 3
Cover your hair with a plastic cap or wrap. Then, sit under a hooded dryer, steamer, or warm the outside of your cap with a blow dryer and deep condition for 30 - 45 minutes. This step enhances the penetration of the deep conditioner within the hair cuticle, a major benefit to those with low porosity hair who struggle with product absorption.
Step 4
After deep conditioning, rinse hair with cold water to close the hair cuticle. Then, proceed with styling. Final verdict? Your hair will be shiny, softer, and feel like heaven.
Deep Conditioning FAQs
Still, have some burning questions on deep conditioning? We're answering your most asked questions below.
1. How long does it take for a deep conditioner to work?
After one use, you should notice a change in the feel of your hair. Your hair will feel softer, stronger, and more moisturized. If you are experiencing severe breakage and/or dryness, it will take a couple of months of consistent use and good hair practices to fully repair your natural curls. 
2. How often should I deep condition my hair?
How often you need to deep condition your hair will vary based on your personal hair care needs, hair texture, and type. Most naturals deep condition every week or every two weeks which coincides with their wash days. Some deep condition every month. If your hair feels super dry, definitely deep condition more often than your current routine. If your hair feels limp, pull back and deep condition less often.
3. Can I deep condition my hair overnight?
If your hair is extremely dry, deep conditioning overnight could help in restoring moisture into your hair. Some brands sell deep condition masks that are formulated for overnight use. However, deep conditioning overnight excessively can lead to hygral fatigue or a moisture/protein imbalance resulting in limp, weak hair. Pair back usage and utilize a balancing deep conditioner like Strengthen, a protein and moisture-balancing deep conditioner, which will help to repair and restore hair elasticity.
Best Deep Conditioner Treatments For Natural Hair
 Whether you're experiencing dry, damaged, or weak hair, Miche Beauty's deep conditioners can solve your natural hair woes. Check out our two deep conditioners for your specific hair needs. 
Do you have dry, damaged, frizzy hair? Try Indulge which is formulated with humectants, emollients, and fatty alcohols such as olive oil, honey, glycerin, and cetyl alcohol to deliver amazing slip and intense moisture for all hair types and porosity levels.
Do you have weak, limp, or processed hair? Try Strengthen which is formulated with hydrolyzed proteins, amino acids, and emollients such as hydrolyzed baobab protein, mango seed butter, and wheat amino acids to restore protein/moisture balance, increase hair strength, and repair hair damage. 
With a solid deep conditioning routine in place, you are now well on your way to achieving healthy hair.
How often do you deep condition your natural hair? Which ingredients does your hair love the most? Comment below and share with us!
---
1 comment
---
---