How To Master A Wash and Go In 5 Easy Steps
Love your natural curls, coils, and kinks but having a hard time perfecting a wash and go? It's okay, we'll make it easy for you. From fine to coarse hair, we have the best tips and products for all curly and Afro-textured hair types so you can finally master your wash and go styling routine.
   
 Step 1: Cleanse and Shampoo
 First thing first, starting with clean hair is the most important first step. Cleansing away product buildup on your scalp and your strands will help to prep your hair for hydration and styling. A sulfate-free nourishing shampoo like Miche Beauty's Cleansed will gently clean hair and scalp thoroughly without stripping hair of its natural oils.
Step 2: Condition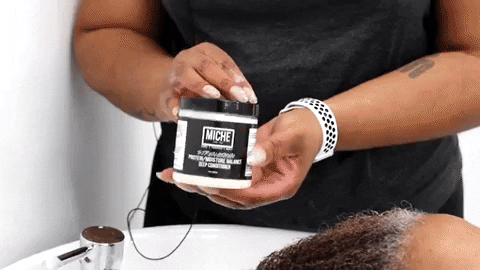 After cleansing, conditioner is an essential step to infusing moisture back into your hair. Plus, it helps to soften and clump your curls making it easier to detangle and style. 
On soaking wet hair, saturate it with loads of conditioner and detangle with your favorite curl-friendly brush in sections starting from ends to roots. Melt tangles and knots with a deep conditioner with lots of slip like our Indulge Deep Conditioner enriched with ingredients like olive oil and honey.
For a more intense treatment, place a plastic cap over your hair and sit under a hooded dryer or hair steamer for 15-30 minutes. Rinse thoroughly with warm water, followed by cold water to lock in all of the moisture.
Step 3: Saturate Hair with Product and Style
Styling your wash-and-go on soaking wet hair is key to minimal frizz and intense definition. As we say here at Miche Beauty, there's no such thing as too much water. 
Begin to create small sections of your hair and detangle. Then, apply a dime-sized amount of a creamy moisturizing leave-in conditioner like Lavish to each section. Follow with a curl-defining gel with strong hold, raking and smoothing the products in with your fingers.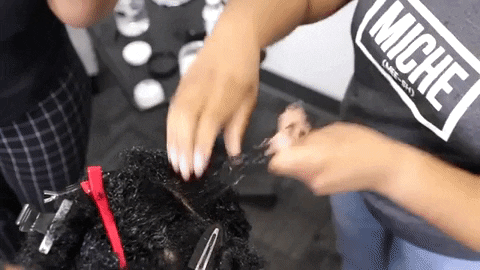 Re-wet sections if your hair begins to dry as you style. Re-wetting the hair will ensure that the products are evenly distributed throughout the hair. If you prefer a softer hold, feel free to use a curl cream like our Bounce Curl Defining Cream  instead of gel but note that style will not last as long as compared to using a gel.
If you have looser strands in the front or perimeter of your hair, you can also coil those strands around your finger to achieve a more defined curl. 
Our biggest tip –
be sure not to touch your hair after styling!
Step 4: Dry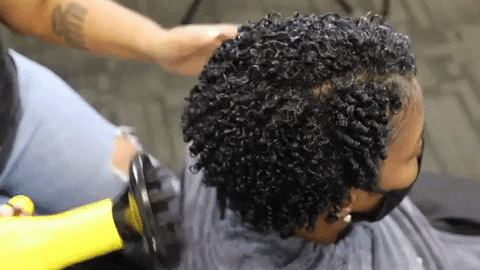 Choose your drying method – air dry, use a diffuser, or sit under a hooded dryer using medium heat. We repeat – do not touch your hair! Your estimated drying time will vary based on your hair density, porosity, and length. Once your hair is 85% dry, smooth oil onto your strands in sections to fight frizz and de-stiffen the gel cast. 
For looser textures seeking extra volume, whip hair back and forth as you diffuse until you reach your desired look. 

For kinky tighter textures seeking extra volume, use a pick after drying to lift and stretch hair until you achieve your desired look. 
 Annoyed by hair shrinkage? Yeah, we feel your pain so try this tip! 
Lengthen curls by using the tug and stretch method. Using a blowdryer, tug and stretch sections of your hair and apply medium heat a few inches from your roots and down the length of your hair shaft for 15 seconds. This method will help to elongate your curls and coils so you can achieve your desired length.
Step 5: How To Maintain Your Hair At Night
The right nighttime routine is the difference between a good wash-and-go and an okay one. To keep your curls defined and hydrated, use the pineapple method. 
To put your hair in a pineapple, gather all of your hair and put it in a loose ponytail on top of your head. If you have shorter hair, you can put your hair into mini pineapples, multiple loose ponytails, and cover your hair with a satin bonnet. Invest in a satin or silk pillowcase if you prefer to sleep without a bonnet. 
In the morning, fluff hair and feel free to spritz lightly with aloe vera juice, water, or a curl refresher spray like Boost which will activate your style.
How long can a wash and go last? 
A wash-and-go hairstyle can last anywhere from a few days to a full week depending on your texture. If you have a tighter drier hair texture, you may have to co-wash and restyle your wash-and-go after 2-3 days to rehydrate. Over time, this regimen will result in more moisturized defined hair.
Mistakes to Avoid When Styling Your Wash and Go
The most common question most naturals ask is why is my wash and go frizzy? There's nothing wrong with a little frizz but to avoid a wash day fail, follow these tips below.
1. Not Styling On Soaking Wet Hair
Water is crucial for your products to fully penetrate your strands. Styling on soaking wet hair leads to more curl definition and allows the products to absorb, lessening the chance for any flakes.
2. Touching Hair While Wet  
When you touch your hair during the drying process, it creates frizz because you are disrupting the curl pattern as the hair sets. Resist the urge of touching your hair by using hair clips or pins to clip away the front sections of your hair. 
 3. Leaving The House Before Drying Your Hair
Dry your hair as much as possible before you leave the house as weather conditions can affect the way your hair dries and takes shape. 
 4. Not Refreshing Your Hair Mid-Week
To keep your curls hydrated throughout the week, use a leave-in spray to keep your curls moist. If you're still experiencing dryness and excessive frizz, co-wash your hair and restyle mid-week to give your hair the moisture it needs.
Best Products for Your Wash-and-Go Toolkit
1. Cleansed Sulfate-Free Shampoo
3. Lavish Leave-In Conditioner
4. BOOST Hydrating Curl Refresher & Leave-In Spray
5. Polished Hair and Scalp Oil
Leave us a comment and share which tip you're now adding to your wash-and-go routine.
Now say goodbye to extreme frizz and say hello to moisturized hair and jaw-dropping definition!
---